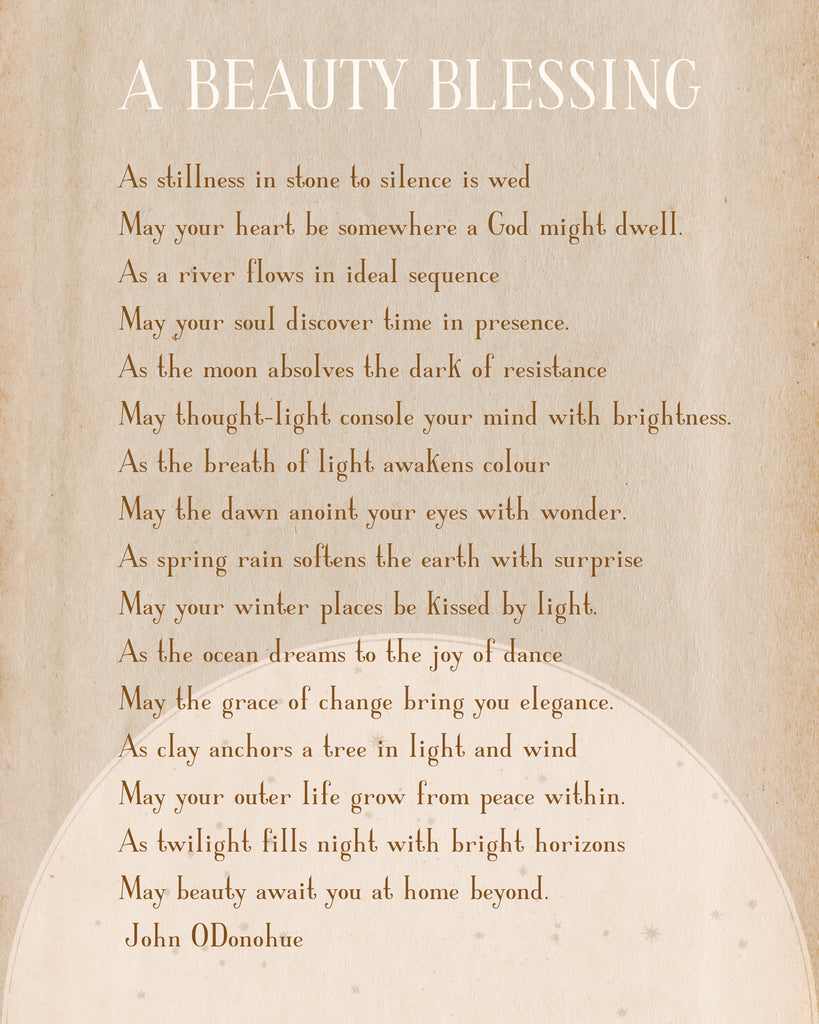 I like to think I'm finally getting the hang of finding beauty in unlikely places. 
My mantra for the year has been three lines written by Mary Oliver:
Pay Attention.
Be Astonished.
Tell About it.
This is the cycle we follow as artists. I am easily astonished because I'm paying attention. It's become a habit now (much to my husband's dismay for all the times I yell, "Stop the car so I can collect some of that dirt, I've never seen anything like it!") I have trained my eyes to find beauty, my heart to feel beauty, and my hands to translate beauty. 
I like to think this is a worthy pursuit, for all people, that can be maintained and sustained for a lifetime. 
I recently read "A Beauty Blessing," penned by John O'Donohue, and I've often thought about how I would compose my own beauty blessing. 
May the soft tendrils of your daughter's hair remind you of the heritage from whence you come. Your father gave you curly hair and you in turn gave it to her. I am called to motherhood as my greatest act of creation, pieces of me tangled in her. 
May the giggles you hear from across the hall while you work late into the night always ring in your ears. You can tell which laugh belongs to whom, and on a sliding scale of happiness, when they are nearing the deliriously delighted realm.  
The boys won't be little for much longer but they will always be yours, you carried them in your arms when they were small, and forever in your heart.
 May you remember that look in his eye. As it bursts into your memory remember that he is a reliable narrator of your love. 
May you love your body with joyful abandon. It has a geography all your own and you are endlessly creating yourself. You are your own refuge even when everything feels crooked. 
May you always walk outside and turn your face to the sky. 
Preserve the glow of sunlight, moonlight, and starlight; they are glorious to behold and will carry you through many days which masquerade as night. 
I made something for you-  A PDF with the original blessing written out. May you read it often and add your own pronouncements.  Can you guess my favorite part? I'll give you a hint, when you see the words "color" and "clay" think of me and know I was here too, reading and thinking, and feeling beauty all around in the humblest of things.  

I designed this to feel like an old book, you know the ones that feel like a friend and their pages contain all the secrets worth learning 
Downloadable 8x10
PDF: https://www.dropbox.com/s/xhg3chzbk49dt1d/A%20BEAUTY%20BLESSING.pdf?dl=0
JPG: https://www.dropbox.com/s/mqs5dnyqhfltfkm/A%20BEAUTY%20BLESSING.jpg?dl=0