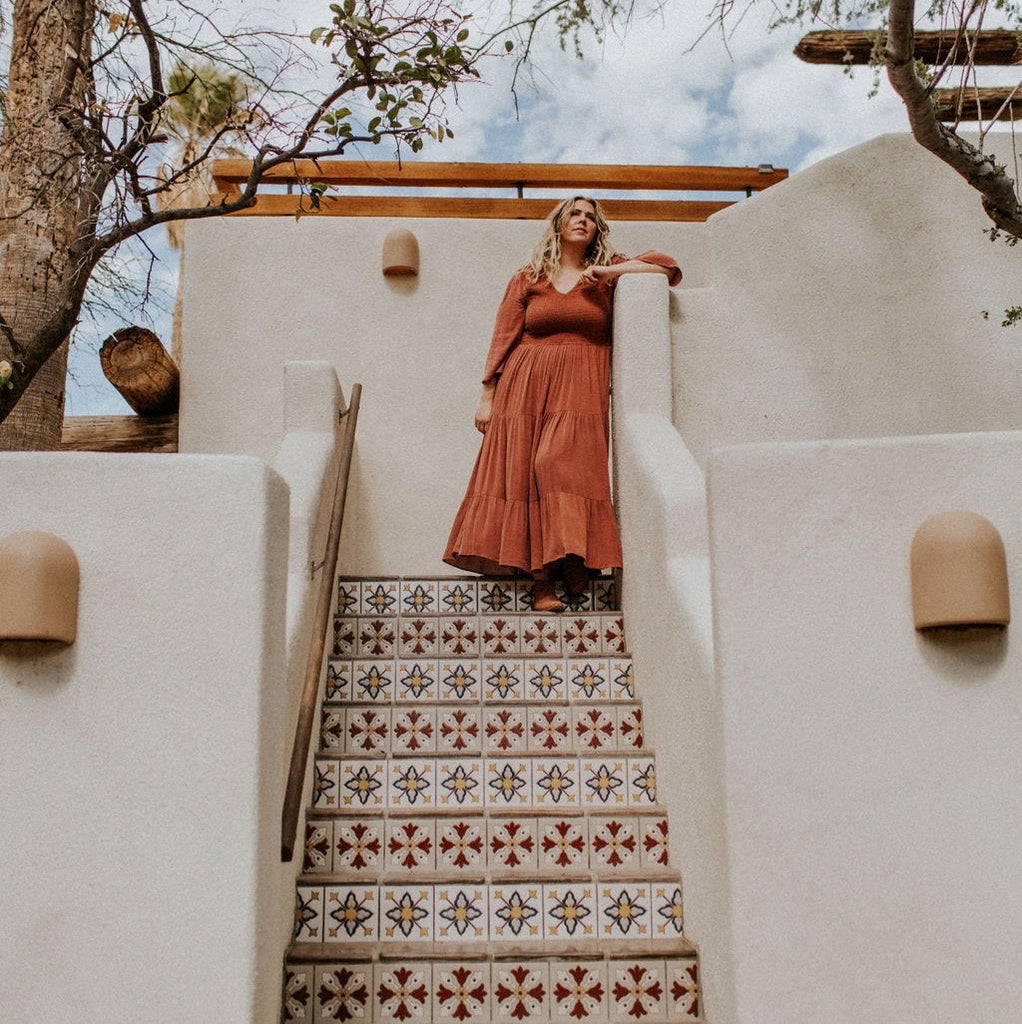 Oh Georgia. She's not the kind of woman you just leave behind as you move on to another project; she's the kind who influences and stays and carries on in the intentional artistry, the memory of a beautiful moment, and thoughtful, daily expression of art. This is where we meet today. In the place where we carry our memories, bring our artistry, lay bare our experiences, and tell our stories, from the inside out. Everything we do contributes to learning about ourselves and sharing clues with others about the person who lives here in this body with this life. All things can affirm how beautiful life is. I think of this even in the terms of the creative expression of wardrobe, or to put it more plainly, getting dressed each day. I see this act as a celebration of self, loving the current iteration of body, mind, spirit. 
When Georgia O'Keeffe began drawing in the modern style, she began drawing objects and shapes not as she saw them in real life, but as she saw them in her own mind. What if we were to dress ourselves not from an outside perspective-with a thought about how we are to be seen- but from an inside perspective of how we see ourselves in our own minds? What if how we dressed on the outside was done to express our inner image? 
"Identity… the word itself gives me shivers. It rings of clam, comfort, contentedness. What is it, identity? To know where you belong? To know your self worth? To know who you are? How do you recognize identity? We are creating an image of ourselves. We are attempting to resemble this image… Is that what we call identity? The accord between the image we have created of ourselves and… ourselves. Just who is it, ourselves?"
-Yohi Yamamoto
 This is not a "Dress Your Body Type," swipe up to buy something you really don't need, or that might not even really feel like you, kind of message. This isn't even about me and my style. This is a call to look inside yourself and celebrate your identity, your whole self. Yourself. Love the current iteration of your body, your mind and your spirit. I want to encourage you and show you that you can discover yourself, love yourself, and create beauty in your life in small, intentional ways. Even an act as simple as getting dressed. This is wardrobe as a form of memory-keeping and storytelling. Memories and stories of the everyday kind. This is something as big as saving your hard-earned artist dollars to buy a new frock, or as simple as tucking in your thrifted shirt, as choosing to wear those dainty stud earrings that were a graduation present, or not bothering to tie your tennis (I never trouble myself with laces!). We can tell our story. Here is a bit of mine:
Krista:
Affinity for lipstick and winged eyeliner. I have been known to wear a fur coat to preschool pick up and a sequined kimono to mop the floors. I adore shoes that are beautifully crafted but ready for adventure at any time.  Lace up ankle boots, loafers (tassels welcome), platform oxfords, and fluffy slippers win high praise in my closet.  Wild hair offers a bit of a warning: should you choose to approach, be ready. I wear all black when I feel a bit unsure, but also I really love it.  Flat brimmed hats also serve to help tame hair on days it's gotten away from me and serve as a nod to my southwest home. I love to wear scarves around my neck mostly because I dream of owning a 1950's red convertible, and I think vintage ladies are classy dames. I love a monochrome moment. I didn't appreciate a well cut dress until I was in my late 20's.I cannot be bothered with fussy clothes, I need ones that are easy to launder (children and ceramics see to this) and free-flowing. I prefer patterns on my shoes rather than my clothes. Linen is a must because there are basically two kinds of weather where I live, hot and hotter. I only wear black jeans that rise high that appreciate my curves. Pockets are always welcome on dresses. Velvet is not allowed, although I could stare at it all day.
 Did you learn something new, or did you find we have something in common? Maybe a bit of both? I can tell you, the act of getting dressed, of choosing something that feels like you in that moment, is glorious. Sometimes I want to wear that fur coat to preschool pick-up just for the hell of it. I find myself getting dressed in an all black moment when I feel a bit unsure . When I mop the floor in a kimono made entirely of sequins, inevitably it leads to dancing so I can watch the reflections dance on the shiny, wet floor. When I go to work in my studio I know I have my linen apron with a grid pattern to protect my clothes from the mess that is about to ensue. 
Our wardrobe and the act of choosing pieces that give clues about us is a beautiful, unique, creative moment. Everyone's wardrobe will be different. The pieces will be collected over time, with intention, and the memories of when you wore them will be woven into the pieces themselves. 
Memories such as picnics in the park, dresses you hope to pass onto your daughter, sweaters that were passed on to you; the sweatshirt you snagged from your dad, threadbare with fabric burnout from years of washing and wearing. Pants, shirts, tunics that always come home wrinkled, crumb covered, or marked with sticky fingers. T-shirts of triumph, covered in the weekend's splattered paint, marking a cause you give your support, or won by training, sweat and grit. Perfume bottles, one from each trip you've taken across the sea. Your first-day power outfit. A collection of vintage jewels, given as gifts, divided lovingly among family to remember. The gloves of your fabulous great aunt, who never left home without them. You become a part of an era, your very own, recorded in memories found in your wardrobe.
My point is that each wardrobe will be different, rich in different fabric, textures, sources, and most importantly, unique in the meeting of memory with current self. Can you find yourself in your daily expression? Take a peek in your closet, see what memories you find, look for evidences of yourself-your colors, your experiences, your values, your keepsakes, your mind, your creations, then come on out. Create. Express. Remember. Share. Then, as this is of course a daily sort of thing, repeat. 
These Sketchbook entries are a collaborative effort between sisters Rachel Klis and Krista Coons, who once shared the same last name of Draper. They've also shared clothes, make-up, occasionally shoes, and frequently swapped jewelry back and forth as both sisters are unusually fond of accessorizing. In this project, Krista's inner dialogue around expression and identity, combined with years of experience in dressing daily to her inner identitity, was translated by Rachel. A few accessories were added.
Continue reading