A Valentine Mocktail The 1920 Flower Ball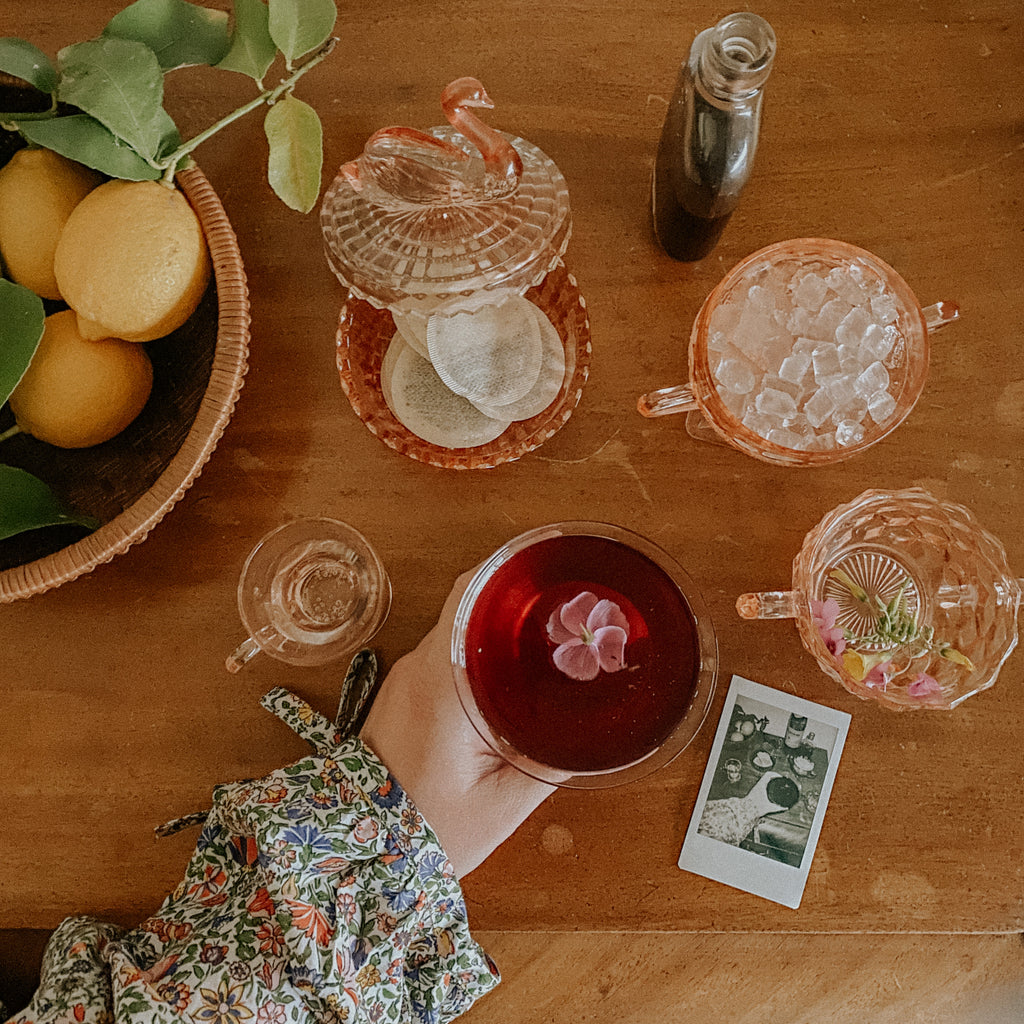 Though our celebrations continue to be different than in years past, I'm thinking it will still be great fun to tuck love notes into envelopes, slip a surprise inside a lunch box, leave never-failing chocolate treats (or handmade ceramic jewels) on porches, or to decorate a neighbor's door this week. 
Now here's a thought to carry with as you go about your amorous escapades:
"No, we don't accomplish our love in a single year as the flowers do; an immemorial sap flows up through our arms when we love. Dear girl, this: that we loved, inside us, not One who would someday appear, but seething multitudes; not just a single child, but also the fathers lying in our depths like fallen mountains; also the dried-up riverbeds of ancient mothers-;also the whole soundless landscape under the clouded or clear sky of its destiny -; all this, my dear, preceded you." 
-Rainer Maria Wilke
As tribute to all the love that has preceded us and as an offering to all the love that will stem from us, I mixed up an earthy, floral drink to celebrate with you! 
Hibiscus grenadine punch, The 1920 Flower Ball,  is a non-alcoholic drink for loved ones of all ages to enjoy, as long as everyone is ok to drink hibiscus tea (it is suggested to be avoided during pregnancy and breastfeeding). I don't drink alcohol but if you do, I trust you'll know what to add if you'd like to add a splash of spirits.
This drink recipe has a few parts, mainly steeping the tea and making the grenadine. I really must insist that you make your own grenadine for this. The flavor, to say nothing of the color, is ever so delicious. It's quite simple, and I've tested this with both plain pomegranate juice and a superfood juice blend with promising fruits such as elderberry, cranberries and the like, and both are divine. 
To make the grenadine:
1 cup pomegranate juice
1 cup granulated sugar
Combine both ingredients in a small saucepan and bring to a simmer over medium heat. Simmer for 10 minutes, allow to cool, then pour into a storage jar. The syrup will keep for 2-3 weeks in the fridge, during which time you will discover all the wonderful ways it can improve your favorite sips!
Now for the hibiscus tea. I like to make this at the end of the day and let it steep overnight.
3 Tbsp loose, dried hibiscus flowers, or 3 bags of hibiscus tea
2 cups boiling water
1 16 oz jar with lid
Pour boiling water over the tea or tea bags and lean a lid over the top of the jar to loosely cover it. Don't cover it all the way! Leave to steep, preferably overnight but at least one hour. After steeping, press the tea bags or strained hibiscus flowers to capture every last drop of goodness, then tighten the lid on the jar and chill.
To make one generous serving you'll need:
½ cup hibiscus tea
1 Tbsp grenadine
Juice of ½ lemon
Your favorite sparkling water to top it off (I like San Pellegrino)
16 oz glass
Ice to your liking
Edible flowers like Violets or Oxalis
To make some to share:
2 cups hibiscus tea
¼ cup grenadine
About 1 ½ quarts sparkling water
Juice of 2 lemons
Pitcher
Ice to your liking
Edible flowers like Violets or Oxalis
Add all ingredients together, then mix, shake, and sip sweet enjoyment! Adjust sweetness as needed by adding more of that luscious grenadine syrup you made.
If you'd like a little music while you sip this HEARTBEATS Playlist on Spotify has a retro feel, it will have you dancing while your tea is steeping
These sketchbook entries are created by sisters Rachel Klis and Krista Coons. We have always loved a party and enjoy making everyday moments special like the addition of flowers to drinks. Rachel created the 1920 Flower Ball recipe and Krista went treasure hunting for Depression Era glass and supported mini entrepreneurs Simon and Anders by purchasing lemons from their trees (they left the leaves on special for me). The sweet boys also picked these Oxalis flowers for me which we can all agree make the drink!